Hello Halloween friends, scary ghost & Internet guests on Halloween.at 2019!

We are glad that you've followed our Halloween page, and we hope that you find your desired information, or have some fun in the pastime :)

We, from halloween.at, want the importance of Halloween in Austria, or even overall in the German speaking area, to increase a bit, and would look forward to - if this spooky celebration - could gain more and more popularity! If also you see it that way! Then post in the
guestbook
, write a personal
Halloween story (horror story)
, or put a link to our website!
Internet presence - making websites for all industries and for all provinces (Webdesign Vienna, Styria, Lower Austria, Burgenland, Tyrol, Salzburg ...). We offer Graphic Design, Logo Design, Illustration, as well as web page programming. Premium web design, graphics as well as search engine optimization. Not just a website, but a sales representative as well as marketing presence! Win new customers and prospects thanks to modern technology! Google optimization / web marketing first hand.
TRICK OR TREAT - HALLOWEEN.AT

Here you'll find interesting facts about the history of Halloween (myth / cult) - the origin; or you want to try some nice Halloween Flash Games, whether a nice Halloween shooter game, or at a Halloween memory game - there is something for everyone! Or maybe you want to send your friends or loved ones a nice Halloween greeting; then send a free Halloween Ecard ... With us you will always hit the payload!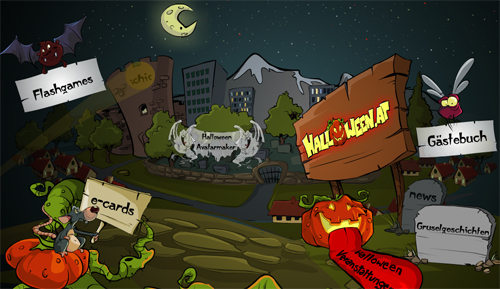 Back to the animated Halloween world

_________________________________________________________________

Here are some basic details - Halloween

On the 31st of October, it comes - Halloween is celebrated!
Who does not know Halloween? A custom from the U.S.? Children dress up in scary characters and go from door to door to collect a few sweets. But what's behind it? Check out our website halloween.at and you will learn more about the myths about Halloween!
The Origin:
Halloween has been celebrated for hundreds of years in Ireland by the Celts. The summer was drawing to a close. The warm season is to be ended and the cooler months to come. The Celts believed that the souls of the deceased return of the dead speak again to the earth and visit us. From there, rather creepy and dark paneling are also scheduled on Halloween.
A pumpkin for Halloween:
During Halloween time, pumpkin trade offers will increase; to cover the demand :) Here is an old custom. Children and parents carve a pumpkin's mouth and eyes, place a candle in the middle of the pumpkin and light up eyes and mouth. This traditional custom is to keep away evil spirits.