Witch
1. Paint the face, with white or pastel green, completely. Similarly paint the neck and (if necessary) do not forget the ears!
2. As soon as possible, if available, paint a latex nose and chin with the same base paint and stick them onto the face.
3. Put accents on the cheekbones and under the eyes with some dark paint (black, gray, etc.). You may even paint on wrinkles.
4. Apply dark (black or dark brown) eyeliner and shape the eyebrows (preferably a curved shape).
5. If required, apply artificial eyelashes (which comes in various colors and shapes in any drugstore).
6. Then, line the lips with a black pen and paint with suitable poison-green. Iif toxic lipstick colors can not to be found or may be sold out, then just color the lips with black lipstick - it looks very good!
7. Lastly, if so desired, by using suitable black pen, one can paint on the cheeks, put up spider webs, warts on the face, nose or cheeks, etc...
Dracula / Vampire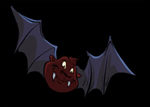 1. Prime the face completely white. Here, we recommend either white makeup or skin color makeup, which lies about two skin tones below our skin color (looks a bit more authentic). Don't forget the neck, ears, and hands!
2. Afterwards, place a line under the eyes with red Kayal and put a few brown accents on the eyelids and cheekbones (the face should be a little "sunken" and bleary-eyed).
3. Color the edge of the lips with a brown or black lip liner and then color with reddish-brown lipstick.
4. At the mouth, place some drops of blood running down with the help of movie blood or blood-red lipstick, where appropriate. If no plastic vampire teeth (obtainable for a low market price) are available, then draw two vampire teeth below the lower lips.
Zombie
1. Cover the face thoroughly with white or if available, even blue or gray primer. Do not forget the neck and hands!
2. Line the eyes with black eyeliner or dark Kayal, with thick strokes, and then surround with dark gray and purple powder on cheeks, eye sockets, and put some dark accents on the forehead, around the nose, and the mouth.
3. Also, cover the lips completely with the primer and draw a broad, horizontal line on the lips with a suitable black pen. Afterwards, blur this with the primer and place a few accents with dark red lipstick.
4. Lastly, using a black pen, draw distinct, wide faults on the forehead (and, possibly, under the eyes).
5. If its available, place blood film vertically down on the face.

Ghost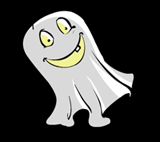 1. Fully cover the face with a white primer or white stage make-up (including the eyebrows and lips). Don't forget the neck and the ears in any case.
2. Subsequently, color the eye area with a very dark or black pencil or eye shadow.
3. The lips should remain either fully primed or have a thick, horizontal, black line, which should not be blurred!
More tips and tricks:
Are you just about to get yourself or your children a unique Halloween outfit? Is nothing new and unusual missing? Maybe we can offer a few suggestions ... For now, there are already all kinds of gimmicks and makeup tricks offered by us, that will, on Halloween, certainly find favor with your friends and family ...
Colored contact lenses:
Colored contact lenses are made especially for Halloween! Both the Internet, as well as at a variety of opticians, has one now had the opportunity to buy contact lenses in all colors and with many different motives. Whether red, black, white or neon yellow color of eyes, cat eyes, reptilian eyes, zombie eyes or werewolf eyes ... with asterisks, dots, or even question marks - now almost everything is available with or without vision correction. The price of the colored contact lenses is based on the type and the lifespan of these lenses. The price range amounts to about 15€ (10 colored daily disposable packs) to over 50€ (2 piece packs - colored, 3 month, lenses).

Plastic and latex utensils:
Plastic or latex noses, teeth, buttons, nails and so on are almost a must-have for Halloween! The market (especially the disguise and costume shops) will maintain a variety of different, sometimes very cheap, plastic utensils, with which one can use for excellent Halloween evening transformations. For the most part, the utensils also purchased in the coming years, are re-usable!
Furthermore, on the market, we already find diverse, low-cost limbs and wounds from plastic, which not only look lifelike, but can also be installed very quickly and taken down. With the right makeup, you will scare all your friends!
The costume shop:
Do you lack the time or simply gone and just not as gifted to design costumes for your children? Then, if your children still need costumes, you should perhaps rent costumes. This is far cheaper than buying new costumes every year, and your children need to have a wide range of different costumes, from which they can choose according to individual needs and taste.
Interior decoration:
It is also advisable to keep your eyes wide open for interior decorations in various stores before Halloween, especially because many scary and spectacular decorations will be offered before Halloween. Starting with snakes and disgusting plastic crawling creatures, skulls, witch hats, Wands and magic potions, to sometimes very expensive, life-sized coffins, skeletons, etc... The Halloween item market flourishes, even here with us!
And should possibly not have the time or desire for an extensive Halloween shopping experience (or it is not easily possible with the kiddies), then you can also confidently go to the computer and browse the World Wide Web for a variety of Web sites. Again, there are all sorts of things to discover!